Rubber stamps are versatile stationery gadgets which can be used for a host of applications. Whether that be for use in the office, as loyalty card stamps, name and address stamps, healthcare stamps, legal documents and even to mark library books. All of our stamps pack a punch and you have the opportunity to customise or select the one that meets your requirements.
But when it comes to choosing between text and date stamps, how do you know which one is right for you? Firstly, let's cover a few of the basics.
What is a text stamp?
Our text stamps do what they say on the tin: they stamp text on to your material. Ranging from sizes: 12mm dia to 116x70mm, you can choose to customise your stamp or add one of our pre-existing templates straight to your basket. No matter whether it's our self-inking or customised traditional hand stamps you're looking at purchasing, both styles of stamps feature wording and logo without a date band, ideal for printing instructional or informative phrases.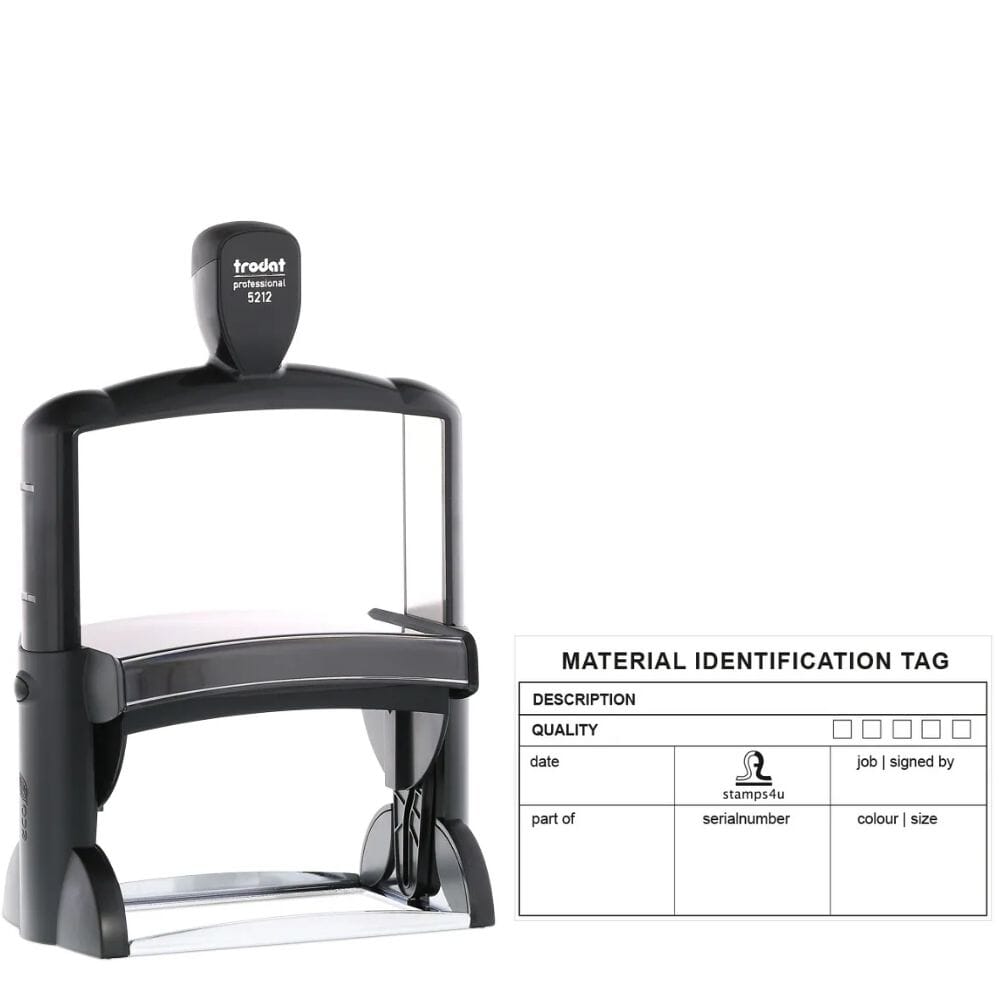 What is a date stamp?
…What is it used for, why is it different from a text stamp? If you google, "what is a date stamp?" 313,000,000 results appear with the top result taken from the Merriam-Webster dictionary describing it is as, "an implement or device for stamping a date and often (as on postal matter) related information (as place of origin or receipt)." As discussed in our 2020 article, "What are date stamps?" Daters feature a rotating date band in the centre of the stamp allowing you to manually change the date when needed.
A date stamp takes the form of many shapes, sizes and designs. If you're looking for a stamp that will print only the date on your paperwork, then our standard date stamps will do the job for you. Maybe you'd like to add a popular office phrase to your dater, combining both stamp functions, our standard phrase and date stamps will save you time and energy from writing the same wording continuously. Wanting to add your branding alongside the date? No worries. Our customised date stamps are on hand to help advertise your company as well as organise and mark your paperwork, products or packaging.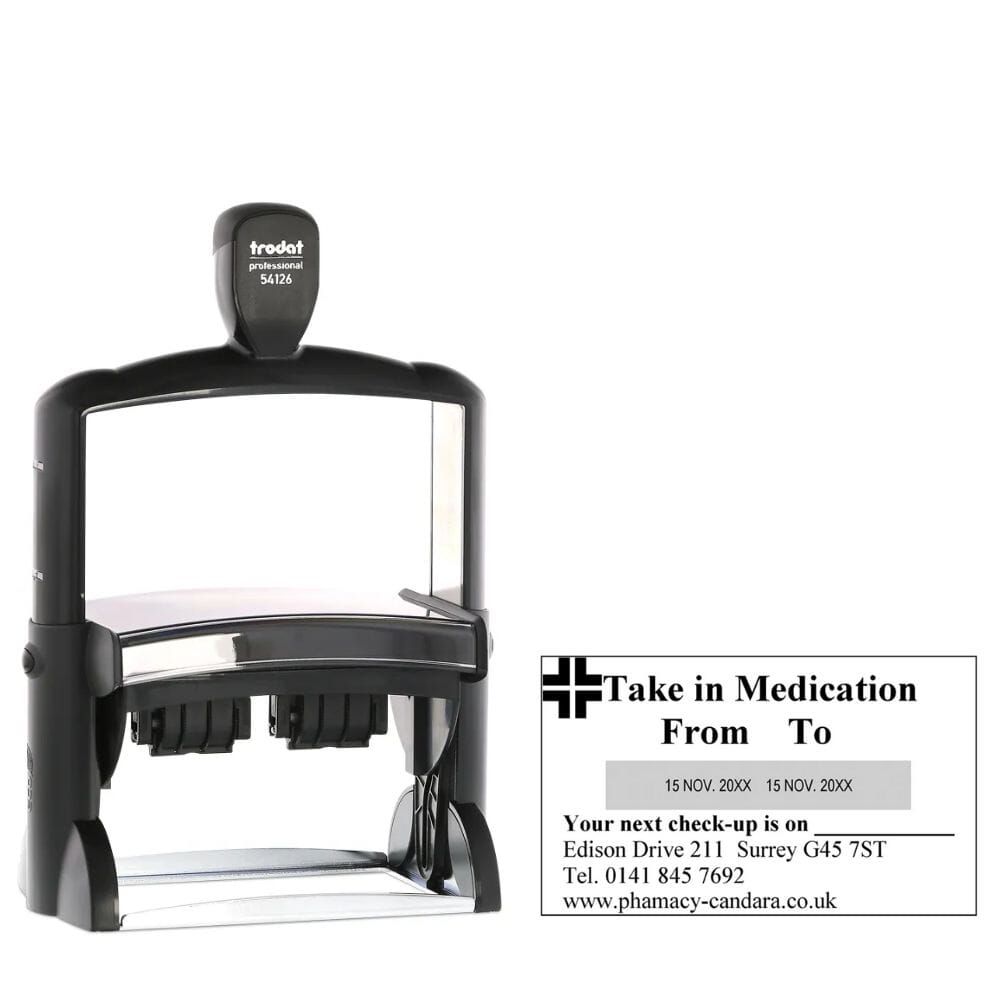 Text stamp vs Date stamp
Now that you know both of their functions, let's discover which stamp is right for you. To help you find the perfect rubber stamp, we have designed a handy flow chart which will take you through a series of questions relating to your purpose for purchasing.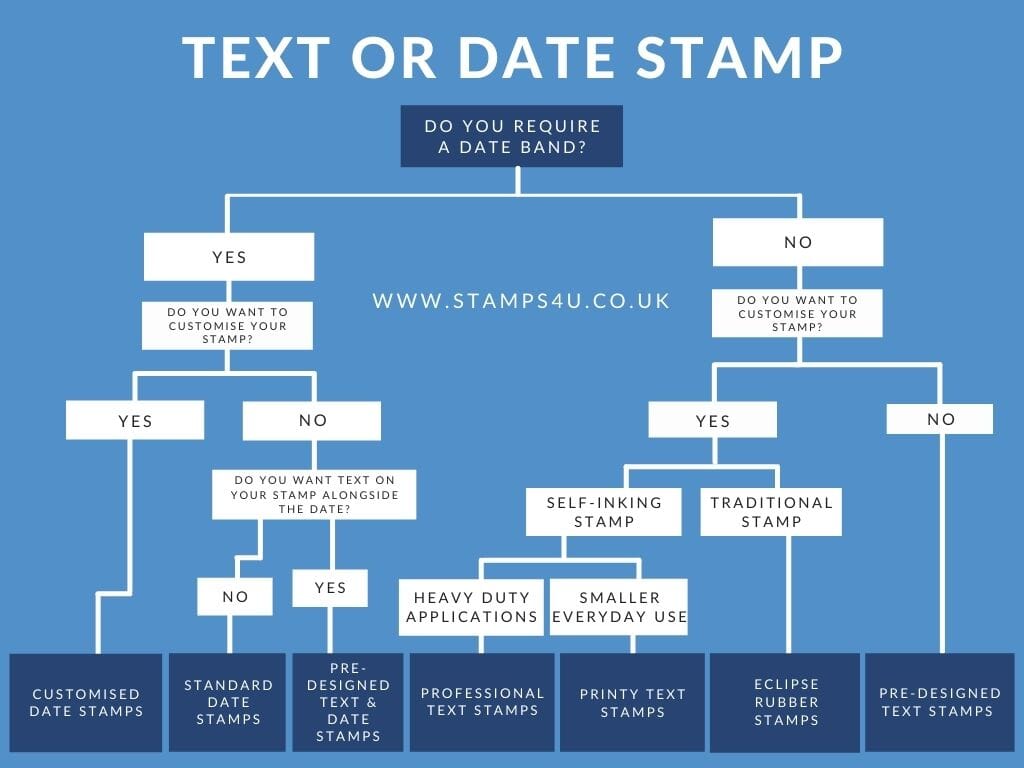 Custom Professional Stamps
If you're looking for a customised professional text stamp and you are a business, our range are available to brand with your name, address and contact details, perfect for shining your company in a professional light. Trodat's professional stamps are self-inking, no need for use with a separate ink pad, ideal for business cards, letterheads, product packaging, warehouse use and office paperwork. Stronger, cleaner, faster, the new professional features cushioning elements and an ergonomic handle for comfortable, prolonged stamping. The professional stamps will last for 1000s of impressions and when your ink begins to fade, there's no need to purchase another. Simply pop in a replacement ink pad and give your stamp a new lease of life.
What makes this stamp different from the professional date stamps? The customised date stamps feature your personalised text alongside a rotational date band, ideal for organising your important paperwork in chronological order. By combining the text and date, you get a two for one deal. Not only does it help you to stay organised but it also keeps your data consistent and up-to-date in a matter of seconds. All of Trodat's professional date stamps come with 12 years of consecutive dates, no need to renew your stamp year after year.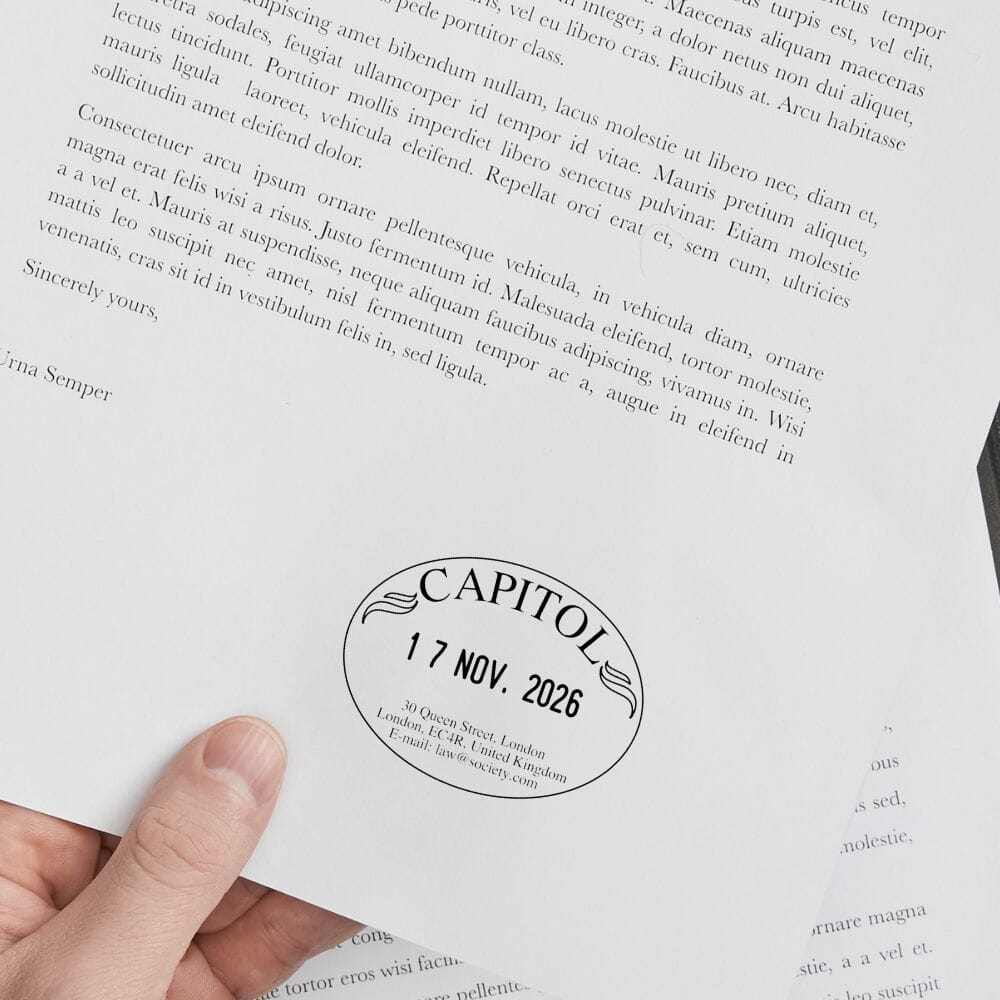 Custom Printy Stamps
Similar to professional stamps, these self-inkers are ideal for everyday use. Climate neutral as standard, the Original Printy 4.0s are smaller and lighter than the professional stamps and are available in a range of sizes to suit a host of applications. If it's a text stamp you are looking for, the printy stamp allows you to add your customisation and mark paperwork as you go. Ideal for business as well as personal use, these small printy stamps are extremely popular with teachers to help with marking. A great way to praise pupils for their hard work or to motivate and encourage good work.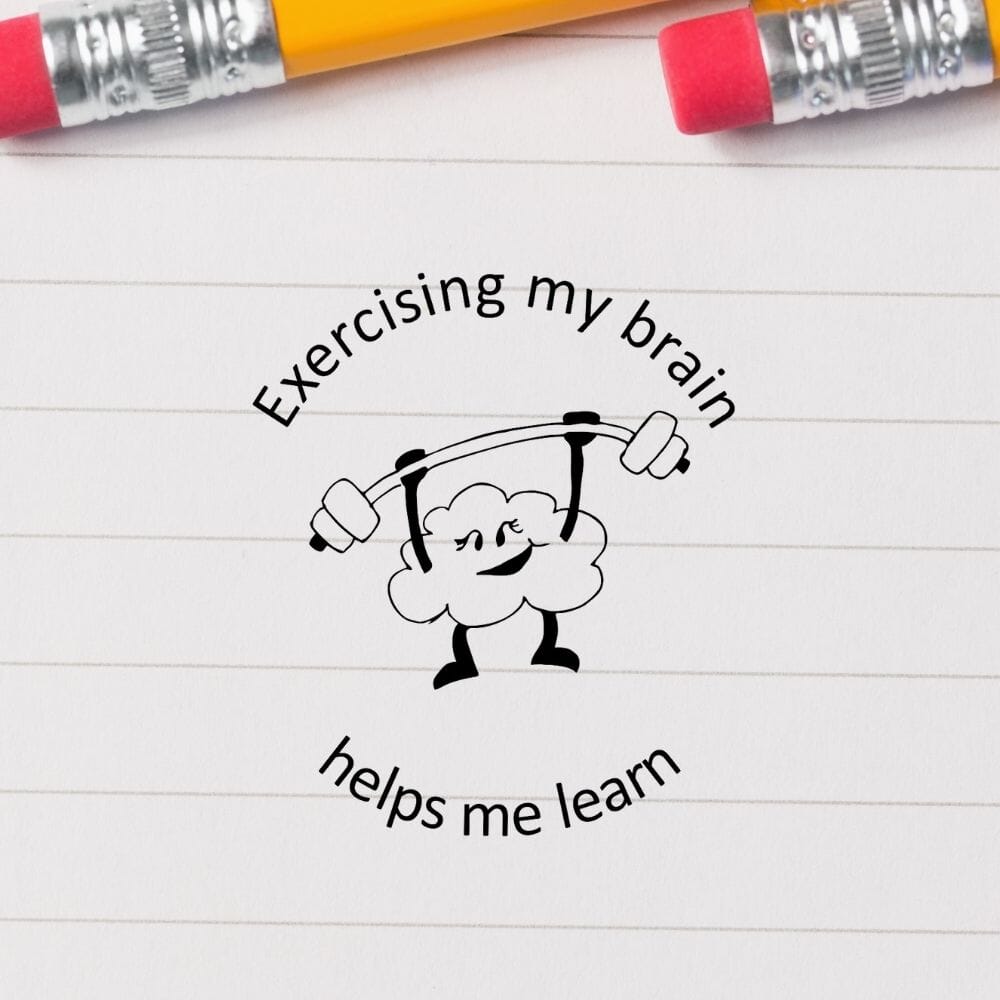 Want to add a date band into the mix? Customise one of our printy daters and incorporate into your craft projects, add to product packaging, organise paperwork or keep track of personal goals. An easy, consistent way to display and track best before dates, arrange your family photos or record the date of your diary entries, Trodat's range of printy date stamps will make the task at hand easier and less time-consuming.  
Traditional Eclipse Stamps
Moving away from self-inking stamps, our collection of Trodat's eclipse hand stamps are versatile in their function. As these traditional stamps do not feature an inserted ink pad, it means you can mix and match the same stamp impression with multiple stamp pad colours. Tailoring it to the specific job. Sturdy, durable and easy to position these eclipse stamps can be used for marking a range of applications including curved takeaway packaging, cardboard boxes and more.
Pre-Designed Stamps
In a hurry and need a stamp sent to you as quick as possible? No problem. Bypass the customisation aspect and head straight to our pre-designed stamps. Whether you're looking for your stamp to show the date only, text only or a combination of the date and a popular office phrase, let our stamps take the pressure off you and do the work for you. "What would I use a pre-designed stamp for?", we hear you asking. Our standard stamps are ideal for use in the office or working from home. Whether it be marking letters with the word, "confidential" or adding the date of payment to invoices, all self-inking, the stamps will create a clear, easy-to-read impression to keep your documents consistent for later reference.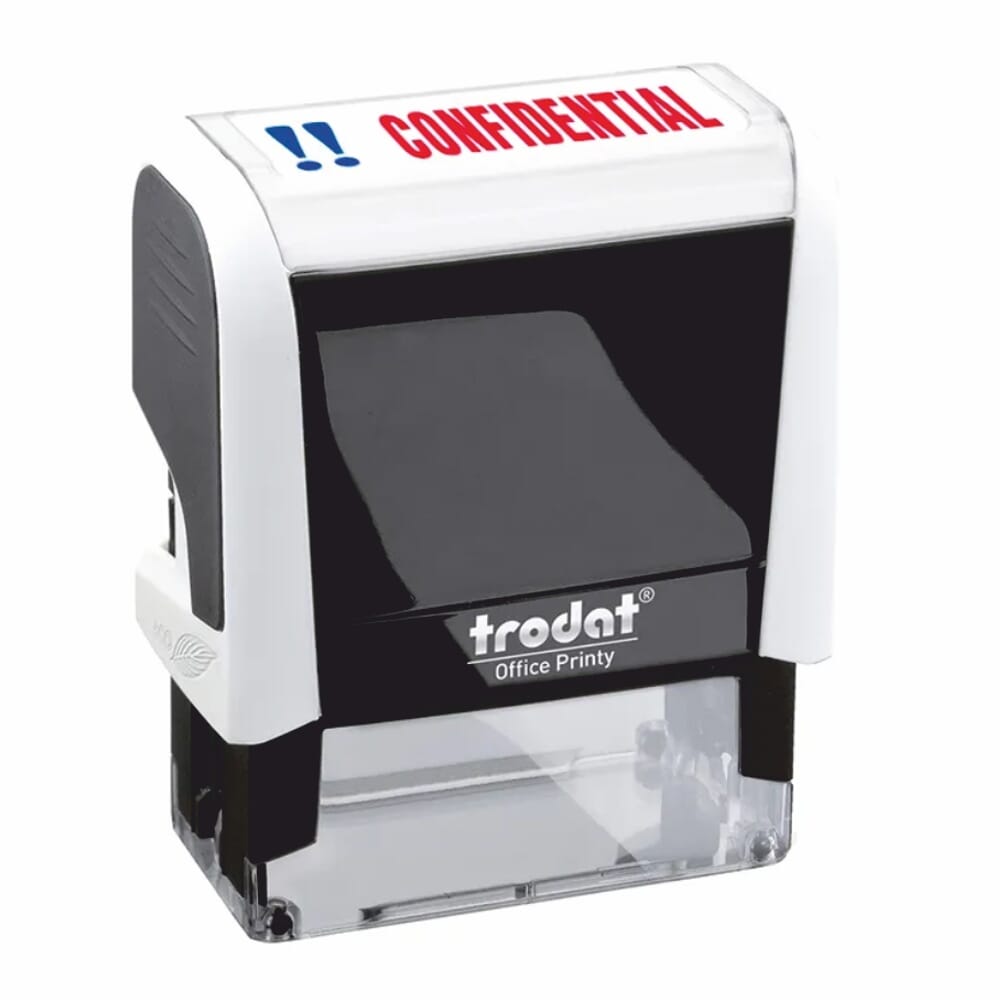 Still unsure whether a text or date stamp would suit you best? Contact our friendly team through our social channels or email us at [email protected].