Get 20% any stamp with code: 20OFFUPGRADE22
Rubber stamps present many opportunities to businesses, but it's all about discovering what benefits they can bring for your brand. We understand it can sometimes be overwhelming looking at the options out there and then selecting the best stamp for your needs. What if the stamp you purchase isn't fit for the purpose you needed it for? What if your stamp doesn't print clearly on the surface/material? These are only some of the uncertainties that come with deciding on which stamp is right for you. By the end of this blog post, we aim to remove this uncertainty and point you in the direction of the product most suited to your requirements.
What is a rubber stamp?
We're going to take you on a journey, starting by telling you what a rubber stamp actually is. When we talk about stamps, don't get confused with the sticky postage stamps you would find at the Post Office, you know the ones on the front of letters? A rubber stamp is a very different stationery tool that prints text, the date or numbers, on to predominantly paper/card/cardboard, in ink. Mentioned in a previous blog post, According to the Cambridge Dictionary, it is "a small device with raised letters made of rubber." There are many different styles of stamp on the market: Traditional rubber with plastic handles; wooden; self-inking and pre-inked. But we're only going to focus on two of the most popular, self-inking and traditional rubber.
Self-inking Stamps
Let's start with our self-inking stamps. What is a self-inking stamp? A self-inker is a type of rubber stamp which comes with an ink pad inserted into the machine. Your text plate which is the rubber die that features the stamp phrase, is also contained within the stamp machine and is pressed firmly against the ink pad in order to coat the rubber for your next use.
But, how does a self-inking stamp work? The stamp is spring loaded, therefore when pushed down, your stamp impression rotates and prints directly on to the material. Lasting for 1000s of clear, crisp impressions, when your self-inking stamp begins to run dry or looks a little faded, no worries, all you need to do is replace your ink cartridge. Replacement ink pads are available to purchase from our web shop. 
Self-inking stamps come in a range of models, shapes and sizes. From round, everyday use stamps to rectangular heavy-duty stamps designed for tougher applications, there are plenty of self-inkers to choose from and they are available in an array of colours including black, blue, red, green, violet and red/blue (for daters). Self-inking stamps are the perfect space savers especially when used in a crowded office or warehouse. As the ink pad is contained within the stamp, it makes the machine compact and also decreases the spread of messy ink stains on your desk. They are designed for quick and easy use. There's no faffing around with which ink pad will work with your stamp, simply lift the stamp and press it firmly on to your paperwork, box or packaging to create the perfect impression.
Because self-inking stamps are compact, the smaller ones are naturally lightweight, perfect for popping in your pocket and ideal for the professional who is constantly on their feet. Trodat have even introduced a new pocket stamp released only a few years ago which is designed exactly for that (see Pocket Printy) 
With personalisation available on a range of self-inking stamps, they are ideal for branding boxes and bags and make for a cost-effective alternative to branded packaging. A host of the stamps also feature a date band which enables the user to change and print the date on to files, making organising so much easier and quicker.
So now that we've covered self-inking stamps, what is the difference between them and traditional rubber stamps?
Traditional Rubber Stamps
The main difference between self-inking and traditional rubber stamps, besides traditional rubber stamps being cheaper, is that the latter do not feature the ink pad inside the stamp. Traditional Rubber stamps are designed for use with a separate stamp pad, giving the user a lot more choice with inks including special inks i.e. egg marking, meat marking and UV ink or even different colours of ink. Traditional rubber allows you to mix and match depending on the task at hand. Traditional stamps are ideal for trickier applications i.e. pressing on to materials that require less or more force than what a self-inking stamp would provide. Due to the plastic handle, it gives the user complete control over the pressure they use on their stamp. A perfect example of this is the use of these stamps on racing pigeons' wings.
The rubber stamps are manufactured using a strong, durable plastic that is perfect for continuous, prolonged use. Although there are a lot of rubber stamps available to customise, you do have the option of creating the most suitable size as we fit your custom rubber die to the most appropriate mount, whereas self-inking stamps are a little more restricted with their sizing.
However, one thing that self-inking stamps do better with than traditional rubber is their ability to keep your desk free of ink stains. Due to the rubber being open on traditional stamps, once you finish with your stamp, you should always clean or cover your ink impression.
What stamp is the best for you?
Now that we've covered what each of the stamps mean and how they work, let us hopefully narrow down your decision. Our stamps are all very diverse and can be used for a wide range of applications. But just like us humans, each individual stamp is best suited to a particular task…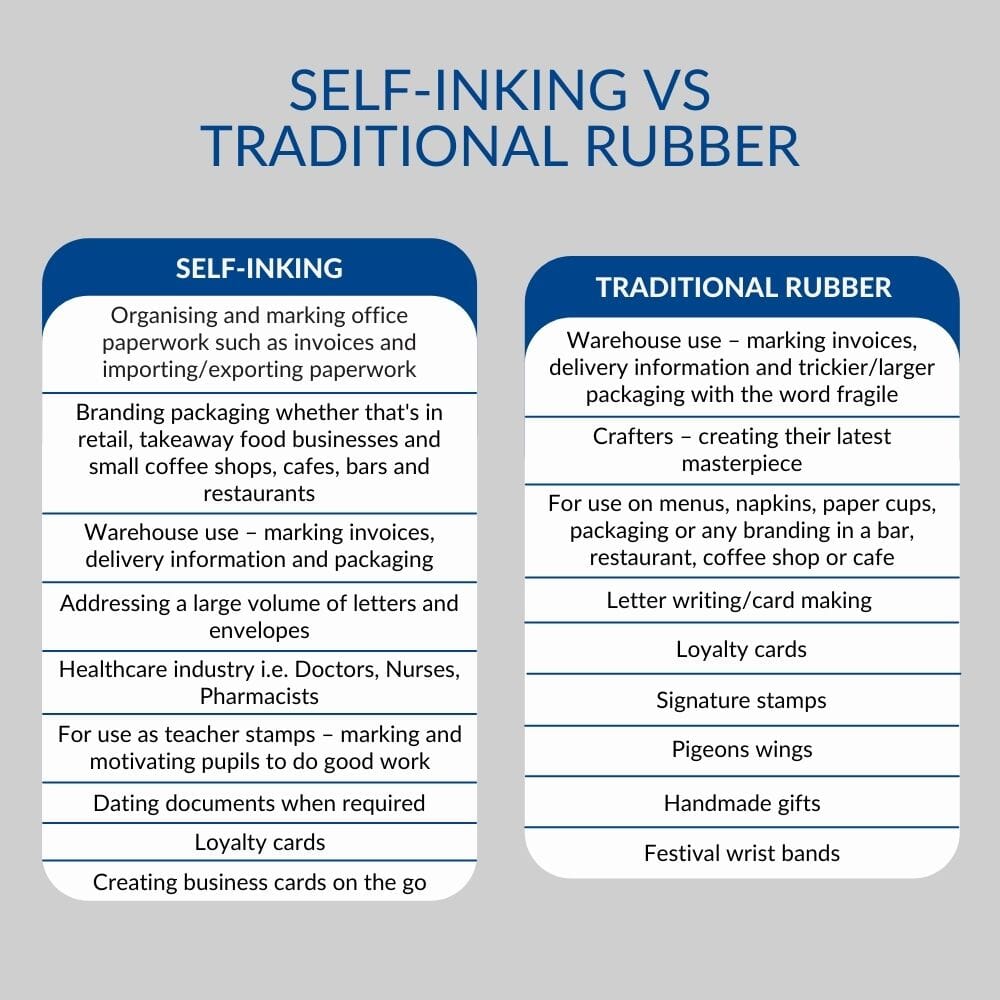 Get 20% any stamp with code: 20OFFUPGRADE22
Still unsure which style of stamp suits you best, don't be afraid to ask for more help. Our friendly customer service team are on hand to answer your queries. Simply drop us a message at: [email protected] or DM us on Instagram.