When you hear the words National Health Service (NHS) what springs to mind? Before the pandemic it was probably, "free healthcare", "hospitals", "budget cuts", "waiting times". But now, when you think of the NHS you probably think, "heroes", "hard working employees" and an "extremely busy environment". 
I think we can all agree that working during the pandemic must have been exhausting, especially with the rising numbers of patients seeking medical attention. In January 2021,the total number employed by the NHS in England rose to, 123,813 doctors and 301,941 nurses which compared to the figures in March 2017: 106,430 doctors, 285,893 nurses and 21,597 midwives employed by the NHS across the Hospital and Community Healthcare Services (HCHS). This clearly shows there has been a significant rise in employees, possibly to cope with the demands brought upon the NHS. That is a lot of people to organise, plan and keep a record of. 
If you work in a healthcare profession within the UK you would have received a Nursing and Midwifery Council (NMC) or a General Medical Council (GMC) number. This number is unique to the individual and the above councils set the standards to make sure you have the correct qualification, qualities and skill set to become a healthcare professional. 
As those in these professions are sometimes dealing with life and death situations, being organised, efficient and having excellent time management is paramount to delivering results. Making sure the right person is filling out the correct paperwork is also crucial. This is why Stamps4u have created a range of stamps to assist healthcare professionals within hospitals, surgeries, pharmacies and more.
Doctor & Nurse Stamp 
We call this our doctors and nurse stamp due to its popularity amongst our doctors and nurses, however it can be used by employees within all different areas of the healthcare industry. Compact, mobile and lightweight, Trodat's Printy 4911 is suitable for printing your name and your GMC/NMC number or job title clearly on any paperwork. Eliminating time spent writing your details, the everyday printy stamp allows you to become more efficient and makes sure that your details are clearly legible for those processing paperwork or for future reference. The stamp is self-inking, no need for use with a separate stamp pad, perfect for popping in your desk or pocket when not in use.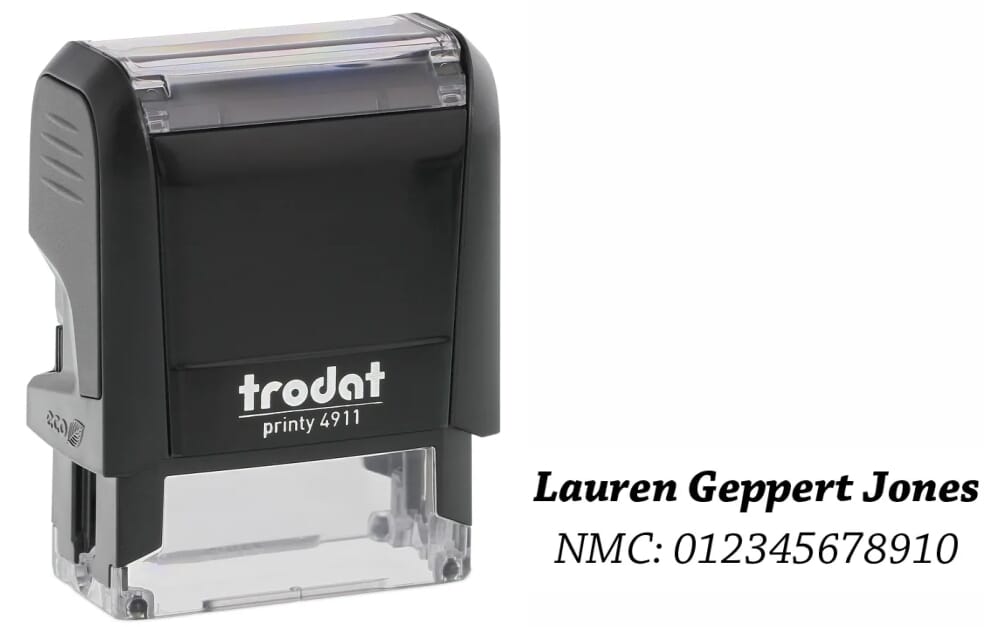 Pocket Printy Stamp
Always on your feet and looking for something smaller to pop in your pocket or clip on to a lanyard as you undertake duties around the hospital wards? Trodat's 9511 Pocket Printy is the stamp for you. Small yet mighty, this pocket stamp will create a clear, 38x14mm, easy to read impression that will keep your documents up-to-date and consistent for future reference. Whether it's for stamping your signature, your unique number or name, this pocket printy is ideal for those who are always busy and on the go. Not only does it fit perfectly into your uniform pocket, the featured clip and hook allows you to attach it to your person or to a lanyard for easy reach and its closed cap means you can carry it about wherever you go without the fear of ink stains on your clothes. Coming in a variety of different colours, you can now match it to your uniform for that professional look and feel.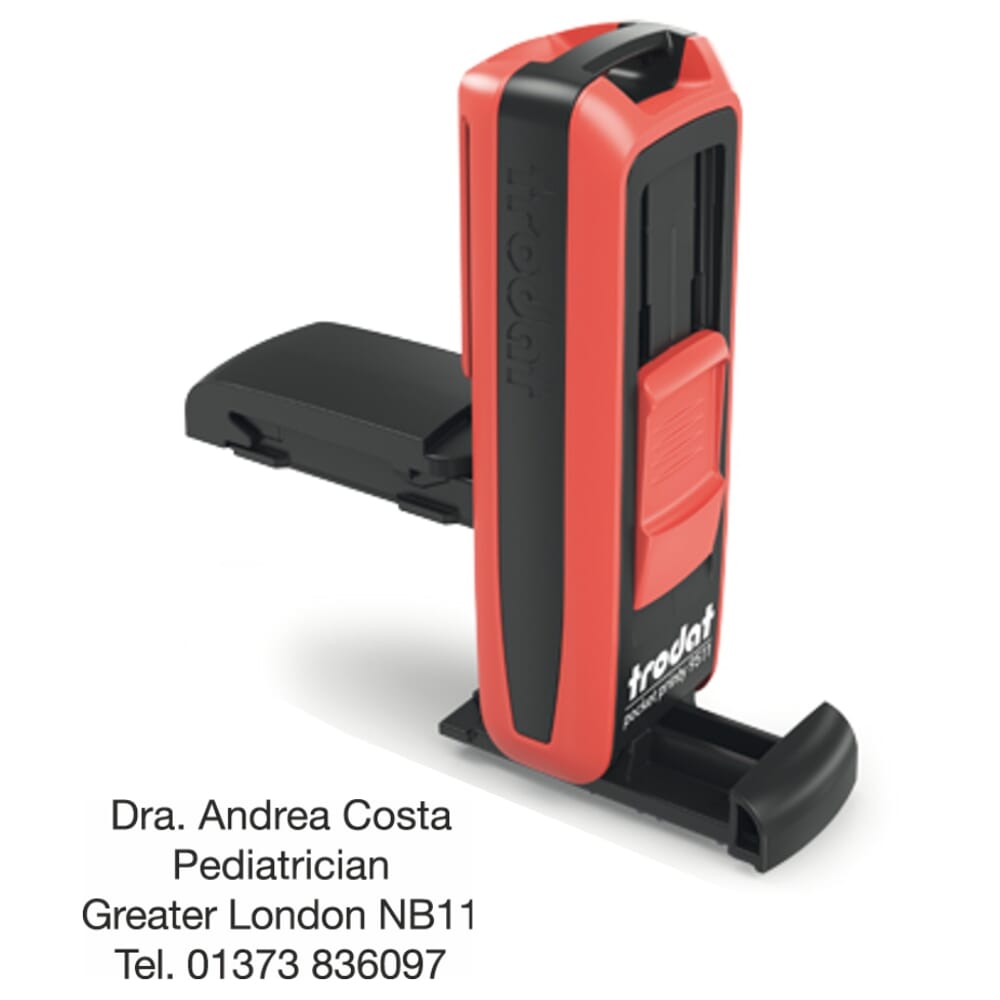 Prescription Stamp
Designed for use in a busy pharmacy or doctor's surgery, mark prescriptions quickly and consistently with this self-inking prescription date stamp. Customised with the authoriser's name, their unique ID number and the address, this date stamp will keep your records up-to-date, ideal for future reference. Trodat's prescription stamp is self-inking and features a rotational date band with up to 12 years of consecutive dates, meaning that it only needs replaced every 12 years, perfect for prolonged, everyday use. Simply add your customisation and begin increasing efficiency in your daily tasks.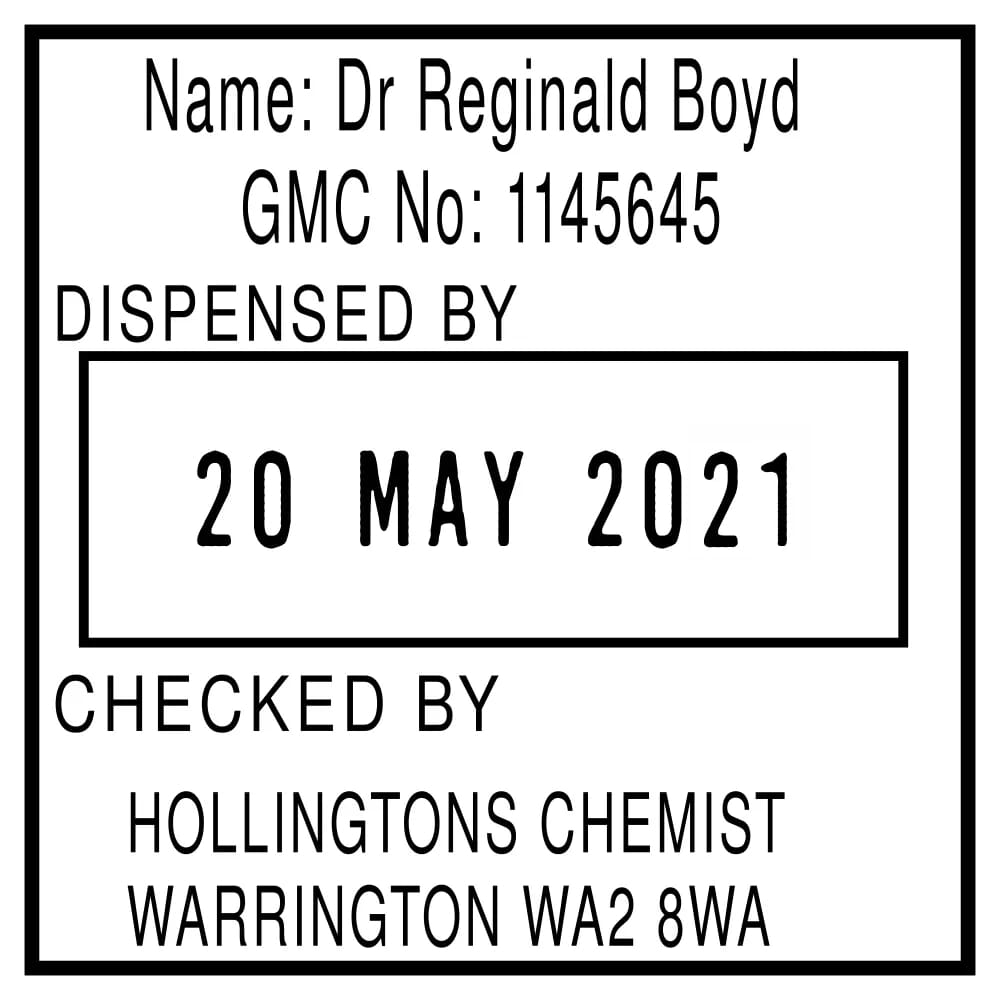 Doctor's Surgery Seal 
Our high-quality Doctor's Surgery Ideal Seal creates a perfect imprint every time and is used by doctor surgeries and dental practices to authenticate documents and letters. The sleek seal creates an ink free, embossed impression that is customised to your requirements, allowing for the perfect display of company logos, trademarks or names and addresses.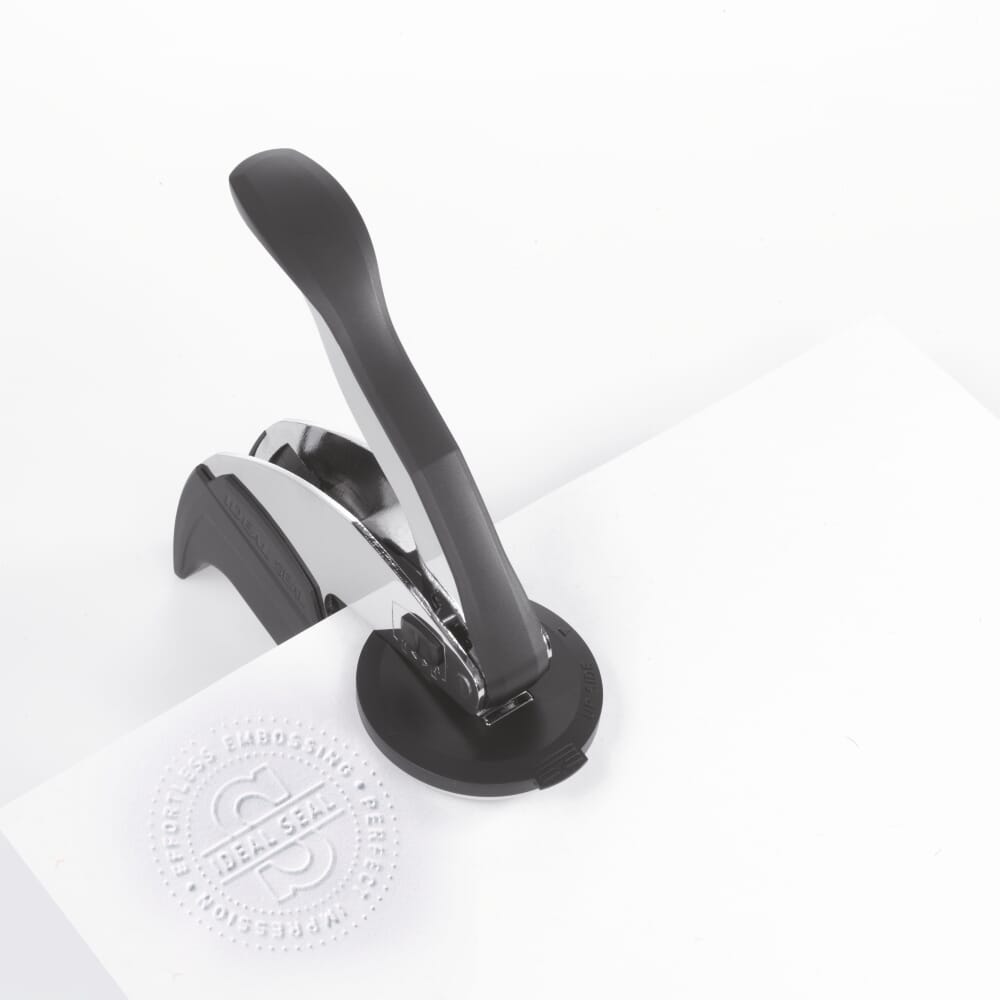 With a professional look and feel, Trodat's Goldring Multi-functional Doctors stamp pen is a popular choice for doctors who are having to fill out paperwork and authorise multiple prescriptions. This chrome pen is not only stylish in design but practical. Coming with a stylus on top and the customised stamp featuring your signature (less tiring than signing your name continuously), your name, unique ID number or job title, built into the pens body, it really is a high-tech yet functional and practical addition to any GP's office.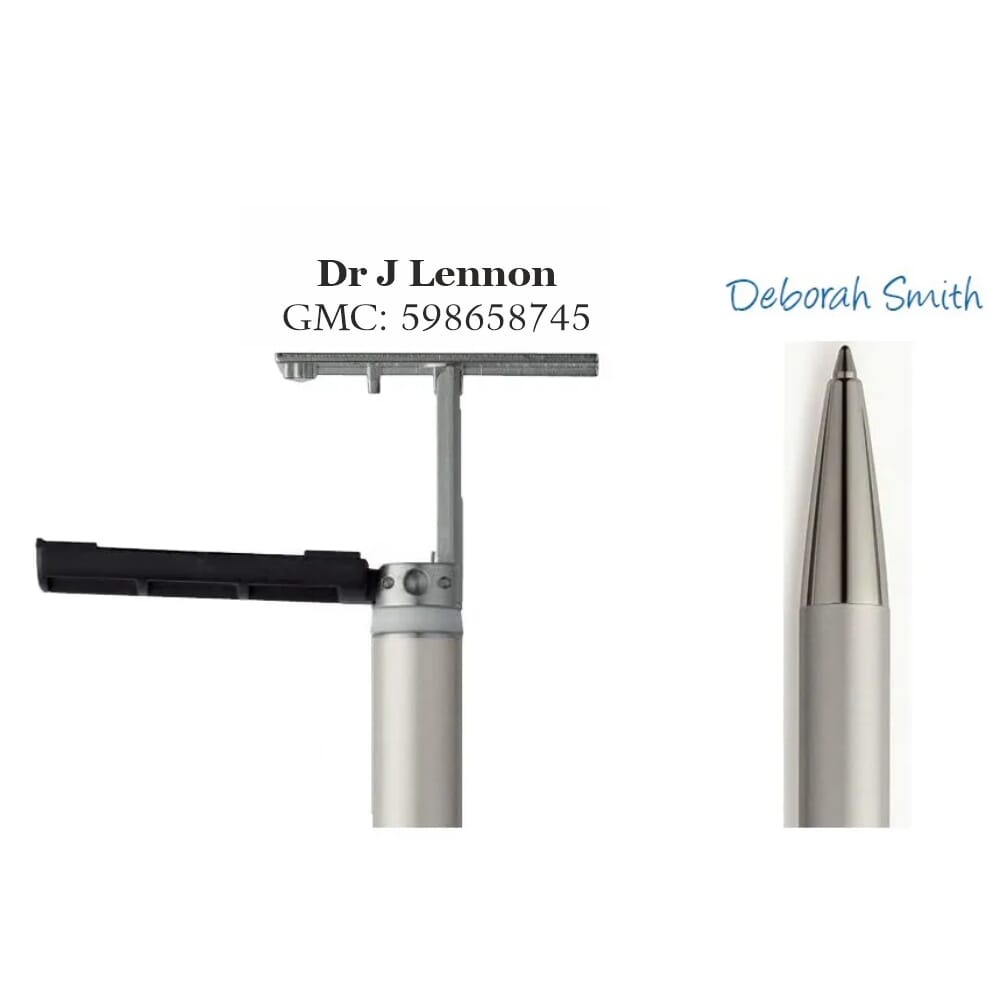 Hand Stamp For Skin
Ideal for use in surgeries or hospitals. Helping to minimise the spread of viruses, Trodat's hand stamp for skin, is perfect for stamping on employees hands before going to the bathroom to monitor correct handwashing. The stamp has been dermatologically tested which means it is certified for stamping on to skin and it is self-inking, perfect for carrying with you or storing in a desk for safe keeping. With the ability to customise, you can add your ward number or unique message, the choice is yours.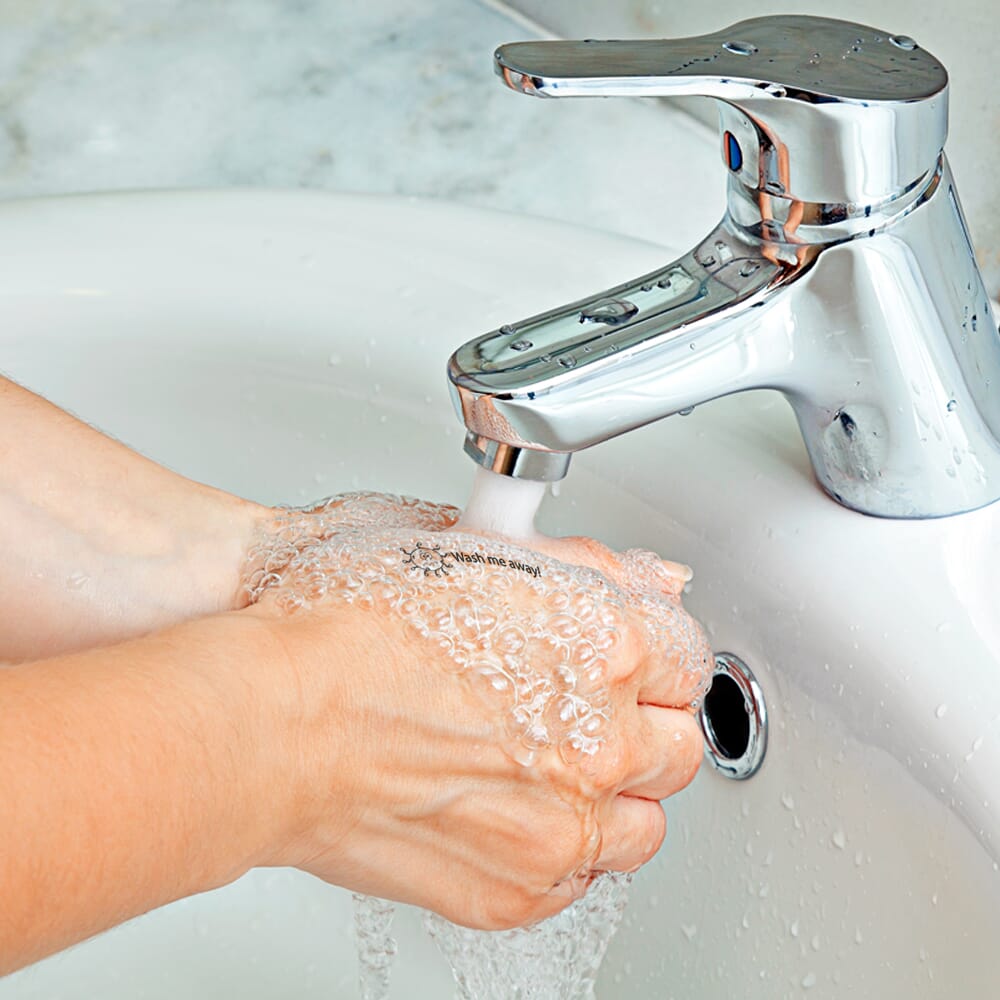 Whether you're a doctor, nurse, pharmacist, porter or dentist. There is a stamp designed to help improve your working day. For more information, email us at [email protected] or drop us a message on our social channels: Instagram (Stamps4u_uk), Facebook (Stamps4u).