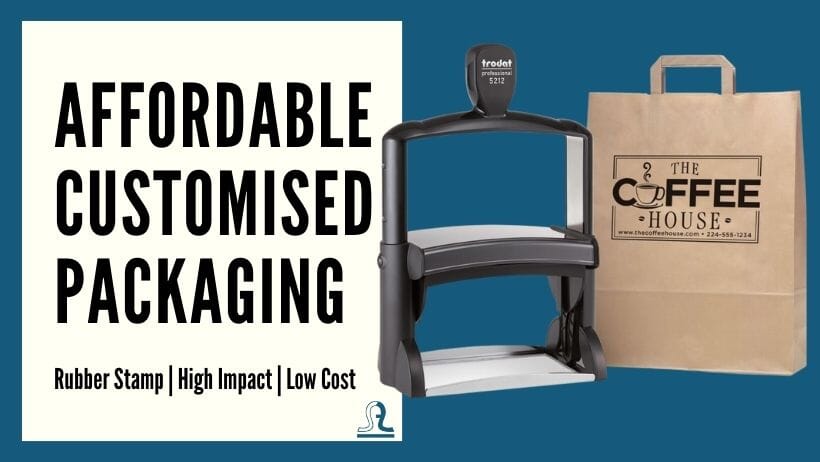 Lets pose the question, does packaging have an impact on your brand?
Packaging is a powerful vehicle of communication between your brand and your customer. It is more than the box or bag that contains your product, it is the whole experience from receiving the package to the look, the feel, the quality, it all adds to the customer experience. 
According to Arka, ecommerce packaging experts, 'It is one of the strongest factors that influence a customer's purchase decision. Research findings indicate that one-third of consumer purchase choices are based on packaging'.
Now that may be the case in a retail environment where a customer can come into the store to browse (offline and online) but it is also equally important after the customer has purchased the item, whether that is online, in store, in a pop up shop, crafters market, it is all relative. 
Your packaging should be an extension to the look and feel of your brand, it should capture your brand essence. It is more than a logo, it is emotional, visual, historical and human. It's an experience that separates different products and services in a world where quality is often comparable or the same.
Ways to brand your packaging…
Printed packaging
Ok so there are many ways you can brand your packaging. You can opt for printed packaging, a simple google search for 'printed packaging boxes UK' would return you about 14,900,000 results in 0,72 seconds, indicating the choice and the service is widely available. 
The quality, print and finish will be exactly what you pay for and your message can be as bold or as subtle as you want, but the price point will be higher than some alternative solutions. Most printed packaging suppliers have a minimum order value or minimum order quantity. As the business owner you need to consider how many box sizes would your require and depending on your product you may have the requirement for various box or bag sizes. Apart from the expense you would also need to take into consideration storage, do you really have the space to store large volumes of packaging?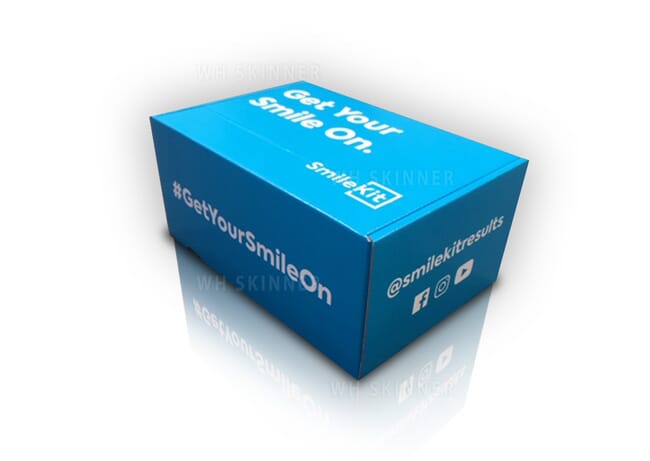 Source: WHSkinner

Sticker your packaging
Another way you can mark your packaging is to use stickers as your branding solution.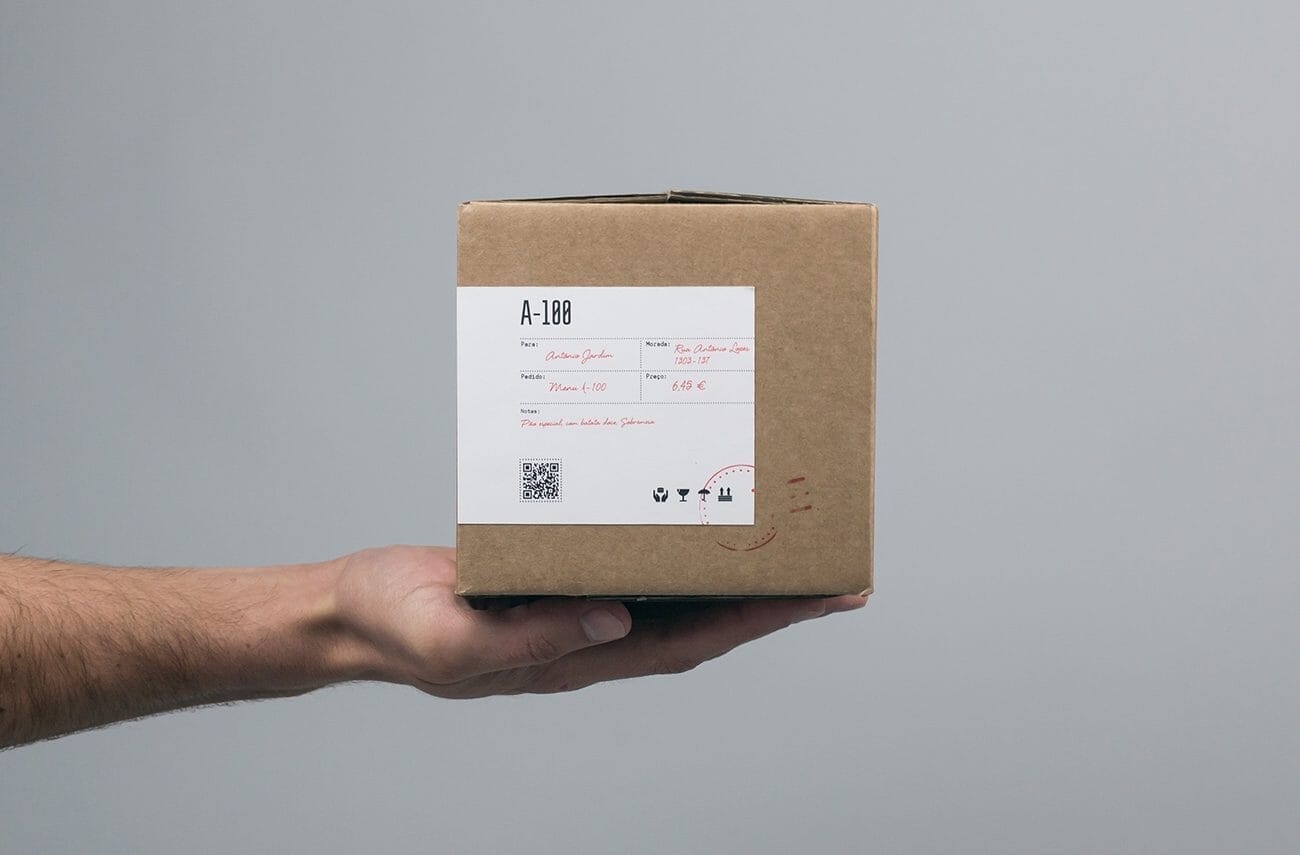 Source: Lumi.com 
At a relatively low cost you can take plain unbranded packaging and use a sticker to engage with your customer. They can also have a high visual impact.
However, if you are considering the sticker option, be mindful as it has been reported that stickering is a contributor to micro plastics in our waterways and environment, which may not reflect your brand ethos.
There are many alternatives to vinyl stickers such as biodegradable wood stickers which could help elevate your brand, whilst reducing your company's carbon footprint.  
Stamping your packaging
Of course this is going to be our preferred method of branding as we are a stamp company after all. Before the Covid Pandemic we were lucky enough to attend the Restaurant and Takeaway Expo at the London Excel with one of our stamp suppliers Trodat. It was here that Alan Fox, Managing Director of The Nationwide Catering Association (NCASS) said in his address "Do not spend lots of money buying printed packaging, buy a stamp and have a play around with your brand and your message". 
A customised packaging stamp will allow you to brand your existing packaging at a relatively low cost giving you 1000's of clear, crisp images, box after box, bag after bag.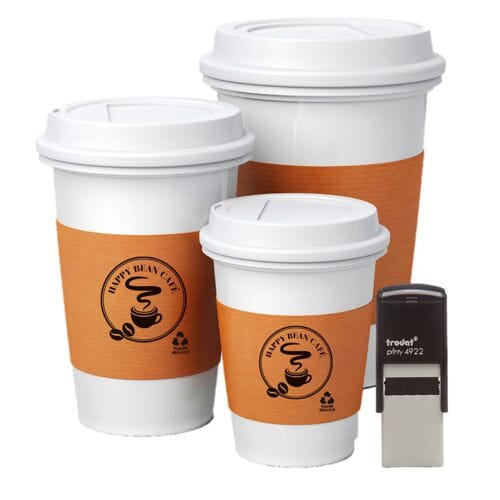 Why choose a stamp over the alternatives? 
Make your mark - Our Trodat standard ink is vegetable, water based ink meaning the stamp impression will not contaminate your packaging, so it can be fully recycled.
Built to last - What's more, your stamp is built to last. When your stamp pad ink is running low you can buy replacement pads for your stamp. Simply swap them over and recycle the old pad
Keep your existing supplier - By choosing to brand your existing 'plain packaging' you can keep your existing supplier but still have your brand message stamped on your boxes and bags.
Keep costs low - Thinking back to the Restaurant and Takeaway Expo, why spend more than you have to, especially at a time when money is tight and many businesses are in the process of beginning to open their doors after months of uncertainty.
Keep your store room tidy - With a stamp you can buy your packaging and stamp as you go meaning there is no need to have the upfront investment that comes with the minimum order value/quantity of printed packaging. This also means you don't need to work out where you are going to store a year's supply of boxes at the one time.
Diversify your message as and when required  - A customised stamp is a low cost option in comparison to alternative methods mentioned above therefore you could have a few different messages or even a few different brands. You can change your stamp at any time. You can buy a new one or you could even buy a new textplate (that's stamp talk for the rubber bit at the bottom that contains your message) and swap it over.
Stamp it all - Bags, boxes, cup sleeves, tags even biodegradable plain stickers. A stamp is such a versatile solution that in many cases one size may fit all. Again high impact at a low cost.
It's FUN! - Enough said, the pleasure you will get from stamping your packaging will surpass your own expectations. Don't just take our word for it though, buy your stamp today! 
If you want to discuss your stamping needs with us please do get in touch as we are only to happy to help. Contact us on our live chat via our website, email at: [email protected] or connect with us via Instgram: https://www.instagram.com/stamps4u_uk/ or Pintrest: https://www.pinterest.co.uk/Stamps4uUK/