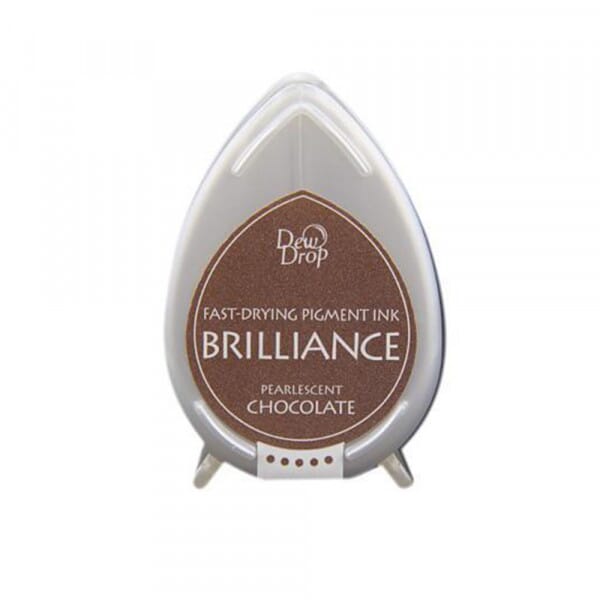 Self-inking stamp orders placed before 12:00 will be manufactured and shipped the same day.
Ships Wednesday, 06.12.2023


Royal Mail delivery:
free above £35.00
(within UK)
Description
Tsukineko - Chocolate Brilliance Dew Drop Ink Pad
Premium Quality Ink Pads and Ink for Fine Rich Vibrant Colour Impressions for all your Creative Projects
Application:
Uncoated paper, coated paper, vellum, photo, leather(tanned leather), cellophane unpainted wood, polymer clay, shrink plastic, terracotta.

Drying Time:
10 - 15 minutes on uncoated paper. Drying time will increase on coated papers. Varies based on surface / material, humidity, etc.

Qualities:
High opacity ink works wonderfully on dark paper!
Ink (from inker) is easy to spread and can be used as paint. Ink can also be mixed into clay. Use ink with the Squeegee or Sponge Daubers to create different background effects.Re-ink the pad (with inker, sold separately) as needed to keep pad moist. Do not allow pad to dry out completely.
Replace inner plastic cover and cover after use. Exposure to air will cause the inkpad to dry out. (Inner covers not required for Dew Drop pads.)

How to use:
Innovative shape is easy to hold at any angle.
The density and shape of the pad make the Dew Drop ideal for DTP (direct to paper) techniques.
Pointed edge makes it easy to apply multiple colours to one stamp.
Use the pointed and broad edges to make different designs when applied directly on the paper.
Full assortment of colours.
Easy to stack.
Side colour indicator label makes it easy to find colours when pads are stacked.
Perfect size for storing and carrying multiple colours.
Air-tight cap prevents premature drying of pad (push down tightly on cap to seal.)
Also sold in colour coordinated packs of 4.
Size 1.25 x 2 inches - 32mm x 50mm
Brilliance Ink Pads for stamps are fast drying and fade resistant, Pigment based ink gives a finer impression and exceptional coverage
Safe Payments

Fast Shipping

0 Customer reviews
for Tsukineko - Chocolate Brilliance Dew Drop Ink Pad
Customer evaluation for "Tsukineko - Chocolate Brilliance Dew Drop Ink Pad"
Write a review
Reviews will be activated after verification.
Quality & Service



We are leaving marks... since the last millennium.

As one of the first companies, we already had an Internet presence in 1999 with our broad selection of individually designable stamps and accessories. Today, we deliver our products to thousands of satisfied customers all over Europe. Selected solid components and state-of-the-art, high-resolution laser technology ensure that our stamps perform their work for a long time and with precise quality. This is why private customers like them as much as large companies or authorities that require large quantities.

Simple
Ordering via Internet not only allows for particularly favourable pricing, but also unrivalled convenience and flexibility. From your home or office, you can design your desired stamp(s) exactly according to your ideas. Designing a stamp in our shop is very easy, regardless if you want to create a simple text stamp or a stamp with a multi-coloured company logo. This also applies to address labels and company-specific T-shirt embroidery. Our free hotline will be happy to answer any questions you may have quickly and competently.
Fast
Individual orders are usually delivered to the customer within 48 hours at the latest. We also offer impressive delivery speed for large orders. We deliver on account, insist on low shipping fees, and offer a money-back guarantee if you are not satisfied.

Comprehensive
In addition to over 450 different stamp models, you will also find many related, useful things in our shop that you can permanently mark with your sign. This includes individually designable embossers, signs, address labels, textiles and gift ideas for advertising purposes.




Recently viewed products: