Products from Crafters Companion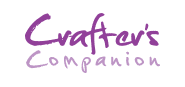 Crafter's Companion was set up in 2005 by Sara Davies MBE from her university bedroom while she was studying for her degree. Sara had a bright idea while working in a local craft shop, where she spotted a gap in the market for a tool that could create bespoke envelopes for handmade cards. Soon after, she set about designing the Enveloper with her Dad, a retired engineer. After securing a slot on shopping channel Ideal Word, the product became a big hit and led Sara on to develop even more new and innovative products for the craft market.
Fast-forward a decade (and a bit) and Crafter's Companion is now a global craft retailer, supplying our products to over 30 countries worldwide.